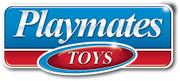 Playmates Toys is a Costa Mesa, California toy manufacturer and a subsidiary of Hong Kong-based Playmates Holdings Ltd, which was founded in 1966. They are best known for their dolls, figurines and action figures, based on popular culture.
History
Founded in Hong Kong in 1966, Playmates Toys is one of the leading toy marketers in the world today. Over the past 45 years, Playmates has brought to market a number of toy brands that defined generations of kids, including Teenage Mutant Ninja Turtles, Waterbabies, Star Trek, Simpsons, Space Jam, Nano, and the Amazing dolls, among others.
Despite the inherent volatility of the promotional toy industry, Playmates Toys has remained a market leader, guided by the operating principles of creativity, flexibility and simplicity. Today, Playmates continues to build upon a strong and focused brand portfolio, including Teenage Mutant Ninja Turtles, Hearts For Hearts Girls, and Family Guy.
The Company was founded as Playmates Industrial in 1966, as primarily a doll manufacturing subcontractor for US and European toy marketers. By the mid-1970s, Playmates had earned a reputation as a leading supplier of top quality dolls. In 1978, Playmates took an important step toward becoming a global toymaker by establishing a sales force in Boston to market and distribute its own lines of dolls and preschool toys, Li'l Playmates.
Press Release
With a history of nearly 50 years, Playmates Toys is today among the most well-respected and innovative marketing and distribution companies in the global toy industry with a proven history in the creation of imaginative products as well as the development and management of profitable, long-term brand franchises. Key brands include today's #1 selling male action brand TEENAGE MUTANT NINJA TURTLES. From its offices in Hong Kong and California, Playmates designs, develops, markets and distributes its products in over 60 countries worldwide. For more information, visit http://www.playmatestoys.com or http://facebook.com/playmatestoys.