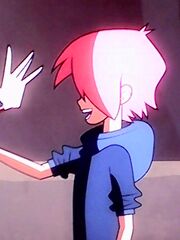 Neeko is someone who Zarya Moonwolf meets in the streets during Scourge of the Seven Skies before encountering Kitty Boon. Zarya tells Neeko to keep the magic real.
Appearances
Season One
Season Two
Appearances in Printed Media
Chapter Books
Graphic Novels
Volume
Volume
Volume
Volume
Volume
Volume
Trivia
His name is Greek for "Nicolas."
like the rest of the people of Gemina, he is shocked to discover the Mysticon identities of his friend Zarya and of Princess Arkayna herself in "Game of Phones."