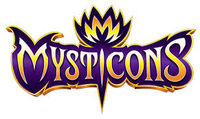 Mysticons is a American-Canadian animated series that premiered on August 28, 2017. The show is a collaboration between companies Nelvana Limited, Playmates Toys, The Topps Company and Nickelodeon. Sean Jara, who has written for shows such as Johnny Test, Degrassi: the Next Generation, Max Steel, Hot Wheels: Battle Force 5, and Inspector Gadget, created the show and is Executive Story Editor and Producer. It was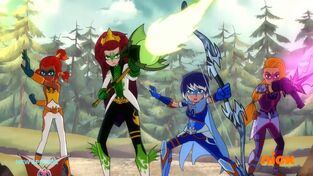 originally described as a series that aimed towards boys, but it changed demographics during development to instead target girls aged twelve and up.The shift occurred due to Nickelodeon's interest in pursuing the female market.
Synopsis
In the mystical realm of Gemina in a place called Drake City, four ordinary teenage girls are chosen to become the legendary heroes known as the Mysticons by the all-powerful Dragon Disk. They will undertake an arduous quest to find the four spellbooks and symbols of mystical power from the Codex to achieve their full powers and save their world from Dreadbane and stop him from resurrecting the former leader and deceased Queen of the Spectral Hand, Necrafa, and save their world from new evils, just as the original Mysticons did one thousand years ago.
Production
On April 8, 2013, Corus announced that its subsidiary Nelvana is teaming up with Topps to develop and produce a Mysticons animated series. Cartoon screenwriter, Sean Jara, was named to write the show.
Michael D. Eisner, who acquired Topps in 2007, commented that they "are thrilled to work with Corus Entertainment a globally renowned children's broadcaster and producer" as well as saying "Nelvana has a strong history of success in building and launching hit boys action properties and the partnership with Topps sets the stage for Mysticons to be the next big global boys action franchise".
President of Corus Television, Doug Murphy stated "We're excited to be partnering with The Topps Company on a multi-platform series that has all the ingredients for success" and "Leveraging the Topps brand will enable us to build game play into the DNA of the series".
A synopsis of the series was also revealed. Additionally, a series trailer was shown privately in Nelvana's booth at MIPTV.
On April 4, 2014, Nelvana released its "MIPTV Newsletter" showcasing its upcoming programming plans, including Mysticons. The series logo was revealed, as well as a 2015 release date in the "BOYS ACTION" category for children of ages "6-11".
On July 10, 2014, at Corus' "Q3 2014 Results Earnings Conference Call", John Cassaday, president and CEO of Corus, addressed the series. He revealed that it is still "in development in the lucrative boys action category" and it "will have strong ancillary merchandising plans in place".
On June 10, 2015, It was revealed that the series was retooled to be aimed towards girls and having an all-girl team.
Characters

Main Chaarcters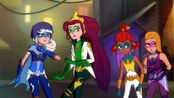 Animal Companions and Sidekicks
Supporting Characters
Humans
Dwarfs
Dragons
Original Mysticons
Locations throughout Planet Gemina
Drake City
Outside Drake City
Series Elements
Magical Objects
Mystical Weaponry
Vehicles
Episodes
List of Episodes
Press Release
(Toronto, Canada) Corus Entertainment's Nelvana is thrilled to announce that an array of industry-leading partners have joined forces on the brand-new, wholly original Girls Action series, Mysticons, which will make its global debut in 2017.
Playmates Toys, the innovative toy company behind the monumental success of Teenage Mutant Ninja Turtles, will act as the global master toy partner for Mysticons, while Nickelodeon will serve as the global broadcast partner, including in the U.S. Nelvana Studio is actively developing the franchise and will begin production of the series later this year, working closely with the core group of partners including The Topps Company, which was acquired by Michael Eisner's Tornante Company and Madison Dearborn Partners in 2007. Mysticons is written by veteran kids series writer Sean Jara (RedaKai, Hot Wheels: Battle Force 5, The League of Super Evil, Naturally Sadie).
"We're incredibly excited to have this group of A-list partners join us on our Mysticons adventure," said Andrew Kerr, Co-Head, Nelvana. "We're thrilled to be at the leading edge of this new genre, and collaborating with world-class brand partners like Nickelodeon, The Topps Company and Playmates on Mysticons gives us every confidence in the franchise's future success."
"I am very pleased that Topps is working with Nelvana to bring Mysticons to animated life," said Michael Eisner, Founder of The Tornante Company and principle owner of Topps. "We are all excited to be partners with Nickelodeon and Playmates as we move forward."
"We are delighted at the opportunity to work with Nelvana on this breakthrough new franchise for girls, as well as expand our partnership with Nickelodeon, with whom we are continuing to build on the tremendous success of Teenage Mutant Ninja Turtles", said Thomas Chan, CEO, Playmates Toys. "We look forward to collaborating with all of our partners on Mysticons to develop an innovative toy line that brings the adventure of the series to life."
Mysticons is being developed as a half-hour, animated Girls Action series targeting girls aged 6+. The series tells the epic tale of four girls who transform into legendary warriors and undertake a mythic quest to find a magic tome known as the Codex. They must reach the Codex before Necrafa, the Queen of the Undead, gets to it first and uses it to spread darkness and destruction. The Mysticons come from different walks of life, from princess to street kid, but are brought together by fate to save the world. With their incredible magical weapons and abilities, our masked Mysticons are modern day heroines.
The series is executive produced by Michael Eisner and Noel Bright for The Topps Company and Corus Entertainment's Doug Murphy, Colin Bohm and Irene Weibel.
Nelvana is a world-leading international producer and distributor of children's animated and live-action content. Nelvana is comprised of Nelvana Studio and its distribution arm Nelvana Enterprises and owned by Corus Entertainment Inc. Nelvana Studio produces a stable of award-winning and globally renowned brands that focus on comedies, preschool and boys action series and ancillary consumer products programs. Nelvana's content airs on Corus Entertainment's kids channels in Canada and in over 160 countries around the world. The Nelvana library has well over 4,000 episodes of programming and has received over 70 major international program awards including Emmys® and Geminis. Visit the Nelvana website at nelvana.com.
Nickelodeon, now in its 36th year, is the number-one entertainment brand for kids. It has built a diverse, global business by putting kids first in everything it does. The company includes television programming and production in the United States and around the world, plus consumer products, online, recreation, books and feature films. Nickelodeon's U.S. television network is seen in more than 100 million households and has been the number-one-rated basic cable network for 20 consecutive years. For more information or artwork, visit http://www.nickpress.com. Nickelodeon and all related titles, characters and logos are trademarks of Viacom Inc. (NASDAQ: VIA, VIAB).
With a history of nearly 50 years, Playmates Toys is today among the most well-respected and innovative marketing and distribution companies in the global toy industry with a proven history in the creation of imaginative products as well as the development and management of profitable, long-term brand franchises. Key brands include today's #1 selling male action brand TEENAGE MUTANT NINJA TURTLES. From its offices in Hong Kong and California, Playmates designs, develops, markets and distributes its products in over 60 countries worldwide.[1][2]
About The Topps Company
Founded in 1938, The Topps Company, Inc. is the preeminent creator and brand marketer of physical and digital sports cards, entertainment cards and collectibles, and distinctive confectionery products. Topps' leading sports and entertainment products include Major League Baseball, National Football League, Major League Soccer, UEFA Champions League, English Premier League, Bundesliga, Indian Premier League, Star Wars, WWE, UFC, Wacky Packages, Garbage Pail Kids, Mars Attacks and other trading cards, sticker album collections and collectibles. Topps' app portfolio, including Topps BUNT®, Topps HUDDLE®, TOPPS KICK® and Topps® Star WarsSM: Card Trader, has been a hit with millions of fans around the world. Topps' confectionery brands include Ring Pop®, Push Pop®, Baby Bottle Pop®, Juicy Drop ® Pop and Bazooka® bubble gum. Topps was acquired by Michael Eisner's Tornante Company and Madison Dearborn Partners in October 2007. For additional information, visit Topps.com and Candymania.com.[3]
Gallery
References