"Griffins are the traditional battle mounts of the Mysticons. You must work hard to master them."
-
Tazma Grimm
to the second generation of
Mysticons
in "
How to Train a Mysticon
."
Griffins are a popular mount for not only the Royal Family but for Mysticons both of both the original and second generations of the four heroes.
In the show's premiere, Prince Gawayne is shown to be both flying and glyphing on a griffin, for his training, which is father considers dangerous.
In "Game of Phones" ancient knights called "Sky Lancers" had rode griffins as well, and used them during sky jousting.
Griffin Mounts
Izzie is the childhood griffin friend to Princess Arkayna herself, the second Mysticon Dragon Mage.
Topaz is Emerald Goldenbraid/Mysticon Knight's. She is eventually replaced by the light purple Dragon Mount in the series finale.
Miss Paisley is Piper Willowbrook/Mysticon Striker's faithful griffin mount. She is replaced by the unnamed, light orange Dragon of Light mount in the show's finale.
Archer—after objecting to "Stinky" "Toby" and "Buster"—is the loyal griffin companion of Zarya Moonwolf, who was chosen as the second Mysticon Ranger, and the younger, long-lost Princess Twin of Gemina. He was eventually joined by a temporary customer, Queen Goodfey.
He is replaced by the unnamed, light blue Dragon of Light mount in the show's finale.
Trivia
Captains for "How to Train a Mysticon" consistently spelled it "griffons" but official Mysticon Channel YouTube promos for the show use "Griffins".
In "The Mysticon Kid", when her friends are sluggish, Piper calls them "griffy-poos".
From what Doug said in "The Mysticon Kid", Archer is the only male.
In Episode Six, Griffins are seen roaming wild in Rudicks Hollow.
Most of the Griffins have a half-lion/half-eagle form, Izzie appears to be half-barn owl.
When one is knocked unconscious, Piper comments if they see "little griffins" as opposed to Earth's expression for "one seeing stars."
Videos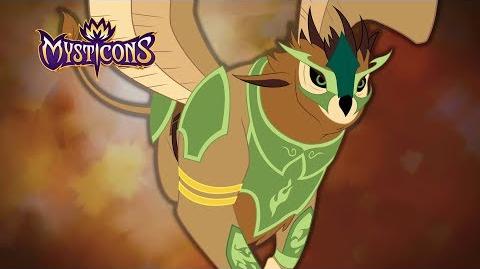 Community content is available under
CC-BY-SA
unless otherwise noted.